wow - Free Shipping - Buy Now!
See how easy it is to be satisfied with the best bacon cooker on the market!
Cook bacon to your liking - Chewy or Crispy
30 day trial - Don't like it? Send it back at our cost
3 Year Warranty - Just contact us - How easy is that?
Check out some of our awesome reviews below!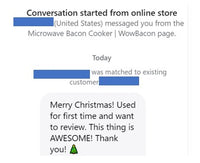 Featured Reviews
Wow! Please share with 100 of your closest friends! Have a Wow Christmas!