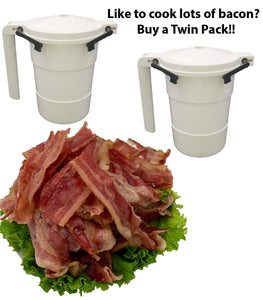 We listened to our consumers! Same design but better quality cooker.

2 WowBacon cookers better than 1! Cooks a lb of bacon in about 10 minutes, so much faster than stove, oven or trays
Keto lovers dream cooker!
Make bacon and scrambled eggs at the same time using 2 cookers!
Dimensions 5 in x 6 in by 7 in high. Can be tilted to put into microwave but needs to be standing straight when cooking. Needs 7.25 in or 18.5 cm clearance.